News
[Rimawari-kun] Large fund Vol. 3 with a scale of more than 170 million yen! Application for "Ocean Front Okinawa Yomitanson" starts on Monday, September 25!
SYLA will begin accepting applications for Vol.3 large-scale fund through Rimawari-kun for "Ocean Front Okinawa Yomitanson" operated by DOTOWN Inc. (Head office: Shibuya-ku, Tokyo; CEO: Shuji Doso; hereinafter "DOTOWN") on Monday, September 25. The offering amount is 174.13 million yen and the expected yield is 4.5%.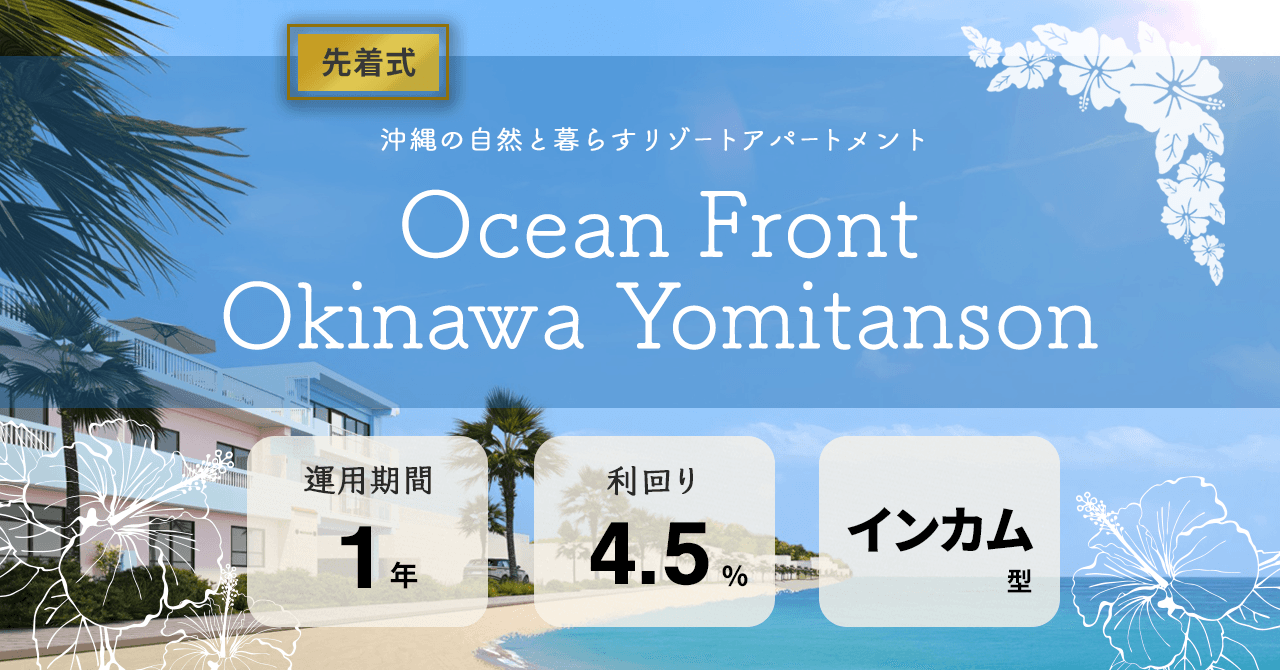 ▼ Very popular Okinawa resort area property x Resort development project

The subject property is located in the Nagahama area of Okinawa Prefecture. It is a resort apartment that DOTOWN, which has a branch office in Okinawa, plans to lease as a part of their resort development project.

Website for application: Ocean Front Okinawa Yomitanson
https://rimawarikun.com/customers/products/71

Okinawa is a representative resort destination in Japan. Due to its high popularity, real estate prices have risen, and vacant properties are scarce in Okinawa. On the other hand, it is not uncommon for businesses to fail as they struggle to fully embrace Okinawa's unique culture and atmosphere. However, DOTOWN has a track record in Okinawa, where they operate "BREAKY HOTEL," a boutique hotel inspired by a luxury motel.

▼BREAKY HOTEL

https://breakyhotel.com/

The subject property for the fund is located in Nagahama, Yomitan Village, Okinawa. It offers a spectacular ocean view, situated along the "Onna Sunset Coast Road," which follows Onna Village, one of the top resort areas in Okinawa. Yomitan Village is also popular as a destination for holiday homes, where you can spend pleasant moments while listening to the sound of the waves in the serene atmosphere.

Yomitan Village is the most populous village in Japan, and is currently estimated to have about 40,000 residents. With several resort beaches as well as the popular tourist spot Cape Zampa, development has been progressing in the Village. Furthermore, the Ministry of Land, Infrastructure, Transport and Tourism currently develops a road extending from the Village to a highway as part of the Okinawa Road Improvement Program. When this road opens, it is expected to attract even more people from the center of Okinawa.

We look forward to receiving your application for this fund, which will enable you to become one of the owners of the property in the highly popular and further developing Okinawa resort area, under stable management by DOTOWN, which boasts a proven track record.


▼ Maximum 4x point awarding rate! Rank-up campaign vol. 1

The rank-up campaign is now underway, in which the point awarding rate will be up to 4 times in accordance with the cumulative amount of investment during the campaign period.

▼ Campaign Period
10:00, Monday, September 11, 2023 – 23:59, Monday, October 9, 2023

▼ Subject
Investments of 500,000 yen or more during the campaign period (The benefits will vary depending on the cumulative investment amount).

▼ Benefit (cumulative investment amount / point awarding rate)
Gold rank : 0.5 million yen or more / 1.0% (2x)
Platinum rank : 1 million yen or more / 1.5% (3x)
Diamond rank : 5 million yen or more / 2.0% (4x)

▼ URL
https://rimawarikun.com/lp/point_rankup_202309_cp/

▼ Scheme and fund information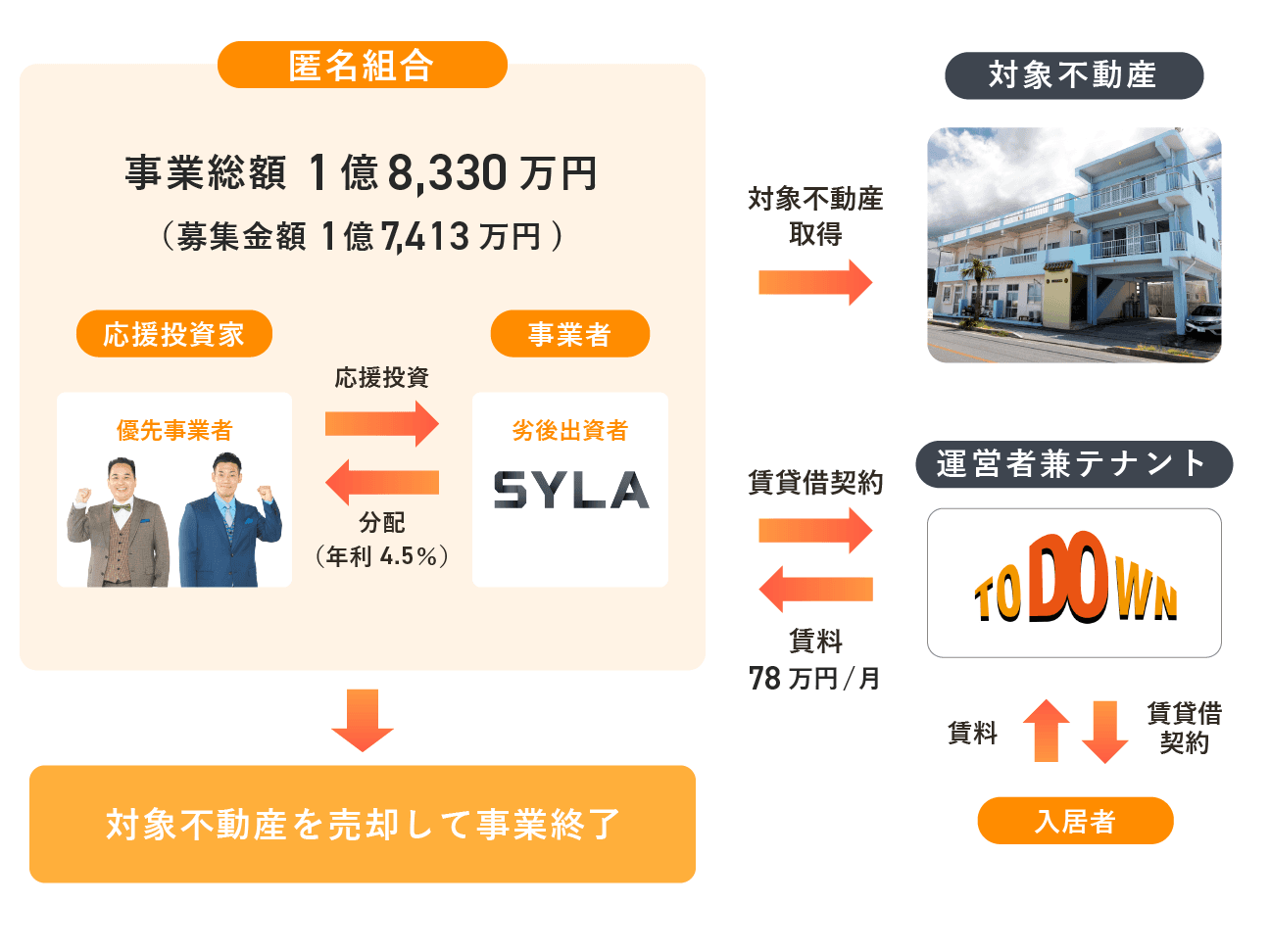 Fund name: Ocean Front Okinawa Yomitanson
Offering amount: 174.13 million yen
Expected yield: 4.5%
Time for distribution: Once every 6 months
Fund management period: 1 year
Type of application: First-come, first-served
Term of application: 12:30, Monday, September 25, 2023 – 12:00, Tuesday, October 3, 2023 *

Website for application:https://rimawarikun.com/customers/products/71

*Applications may close early depending on the number of applications received.

What is "supportive" real estate crowdfunding platform "Rimawari-kun"?

With the concept of "support in a new form," Rimawari-kun is a "'supportive' real estate crowdfunding platform" that allows people to invest from 10,000 yen per unit in real estate that contributes to society, revitalization of local communities, and supports someone's dreams and challenges.
Website:https://rimawarikun.com