News
[Rimawari-kun] Rimawari-kun's largest-ever fund of over 500 million yen! The large-scale fund Vol. 4 is for a premium penthouse on the top floor of "AZABUDAI PARKHOUSE" in Minato-ku, with an unusually high yield of 5% in central Tokyo! Application starts on Monday, October 2!
SYLA will begin accepting applications for Vol. 4 large-scale Rimawari-kun fund for "AZABUDAI PARKHOUSE" on Monday, October 2. The offering amount is 529.04 million yen and the expected yield is 5.0%.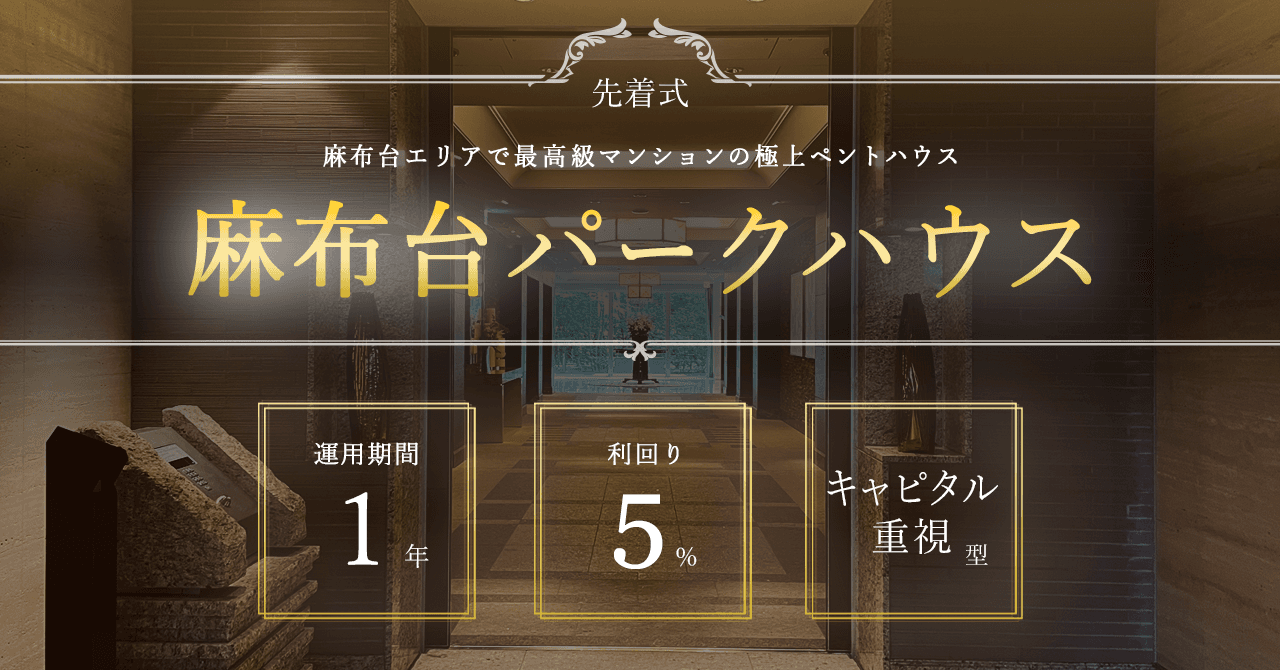 ▼ Opportunity to become an owner of a rare, luxurious property that everyone dreams of

This fund is largest ever in the history of Rimawari-kun! The subject property is a penthouse on the top floor of AZABUDAI PARKHOUSE, a grand, luxury condominium for the affluent class.

We have launched variety of Rimawari-kun funds to support investors' asset management, and we are now offering a high-yield property in central Tokyo, where asset values continue to rise! Although this property is so premium that you would usually never find in the market, SYLA's unique network enabled to launch this fund.

Website for application: AZABUDAI PARKHOUSE
https://rimawarikun.com/customers/products/72

AZABUDAI PARKHOUSE was built as an annex to the Tokyo American Club as a part of the Club's redevelopment project. The Tokyo American Club is a members-only international social circle for the executive class with over 90-year history established in 1928.

Tokyo American Club official website
Originally designed for the Tokyo American Club members, the concept of AZABUSAI PARKHOUSE is "Home away from home," and each floor is decorated with sophisticated, exclusively designed furnishings and lighting. The building features various functions as the top-class luxury condominium, such as a reception hall and salon where you can spend fulfilling time, as well as concierge services and 24-hour manned management and other strict security equipment that support the comfort of your life. Other features include an exclusive passageway leading directly to the Tokyo American Club, as well as the access to the clubhouse's quality facilities, such as restaurant, bar, fitness gym, swimming pool, and bowling alley.
The penthouse on the top of "AZABUDAI PARKHOUSE" for this fund is a top-class and very rare property. It is very spacious with an exclusive area of 238.92m2 and a roof balcony of 68.39m2, which incorporates luxurious and attractive space. In addition to the living room, there are five other rooms, two bathrooms, a walk-in closet and two shoes-in closets. The roof balcony overlooks both Azabudai Hills and the Tokyo Tower. As a penthouse of a luxury condominium, this property radiates a distinctive sense of elegance.
This is such a very unique opportunity to become an owner of a top-class, prominent property, which only SYLA would be able to offer, with our expertise in real estate as well as our own real estate AI and other technology,. We look forward to receiving your application!
▼ Maximum 4x point awarding rate! Rank-up campaign vol. 1

The rank-up campaign is now underway, in which the point awarding rate will be up to 4 times in accordance with the cumulative amount of investment during the campaign period.

▼ Campaign Period
10:00, Monday, September 11, 2023 – 23:59, Monday, October 9, 2023

▼ Subject
Investments of 500,000 yen or more during the campaign period (The benefits will vary depending on the cumulative investment amount).

▼ Benefit (cumulative investment amount / point awarding rate)
Gold rank : 0.5 million yen or more / 1.0% (2x)
Platinum rank : 1 million yen or more / 1.5% (3x)
Diamond rank : 5 million yen or more / 2.0% (4x)

▼ URL
https://rimawarikun.com/lp/point_rankup_202309_cp/

▼ Scheme and fund information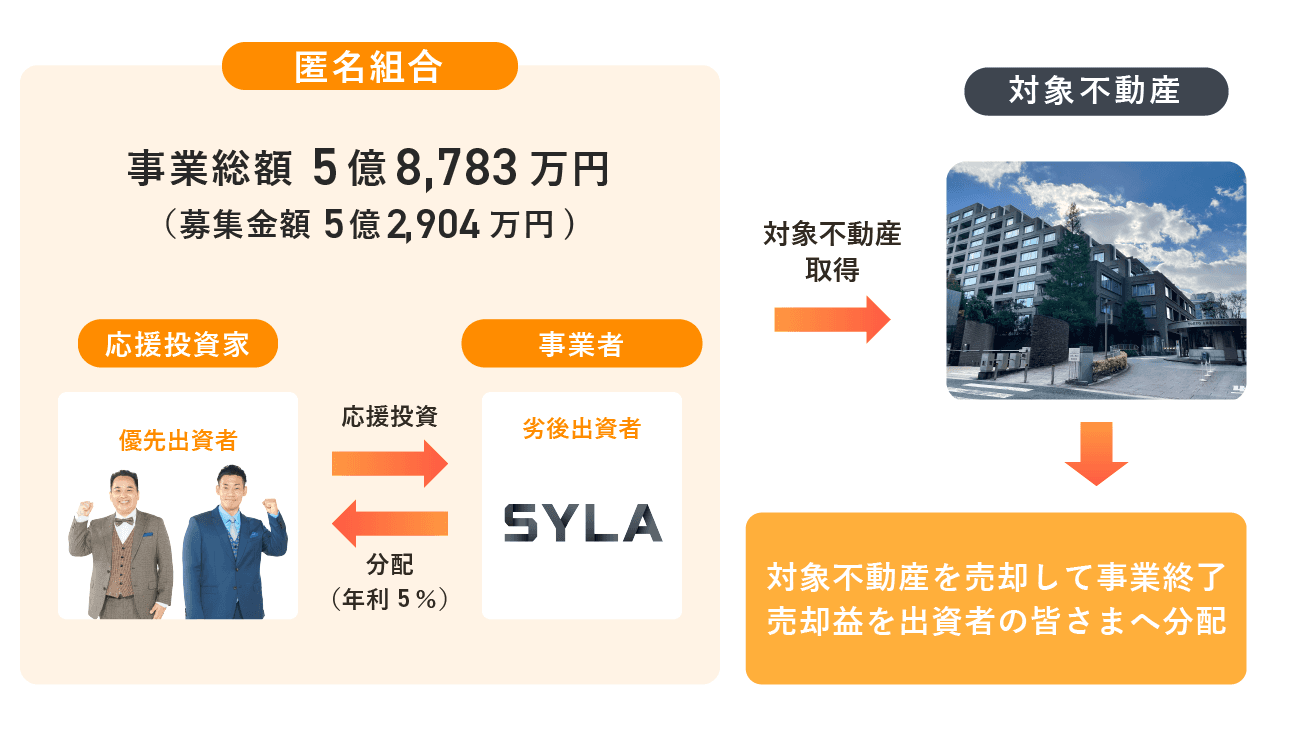 Fund name: AZABUDAI PARKHOUSE
Offering amount: 529.04 million yen
Expected yield: 5.0%
Time for distribution: 1 year (same time as redemption)
Fund management period: 1 year
Type of application: First-come, first-served
Term of application: 20:00, Monday, October 2, 2023 – 12:00, Tuesday, October 10, 2023 *
Website for application:https://rimawarikun.com/customers/products/72

*Applications may close early depending on the number of applications received.

What is "supportive" real estate crowdfunding platform "Rimawari-kun"?

With the concept of "support in a new form," Rimawari-kun is a "'supportive' real estate crowdfunding platform" that allows people to invest from 10,000 yen per unit in real estate that contributes to society, revitalization of local communities, and supports someone's dreams and challenges.
Website:https://rimawarikun.com