News
[Rimawari-kun] The sixth large-scale fund is a joint project by two "real estate × tech" companies to develop a new rental residence! Application will begin for a fund by architect developer, inc., "Key to the Future—ADI's Data Rental Residence Development Vol. 1 'Yamato City, Kanagawa'"!
SYLA Co., Ltd. (Head office: Shibuya-ku, Tokyo; CEO: Yoshiyuki Yuto; hereinafter "SYLA") will begin accepting applications for a new joint project, "Key to the Future—ADI's Data Rental Residence Development Vol. 1 'Yamato City, Kanagawa'" on Monday, October 9. The offering amount is 324.02 million yen and the expected yield is 4.0%.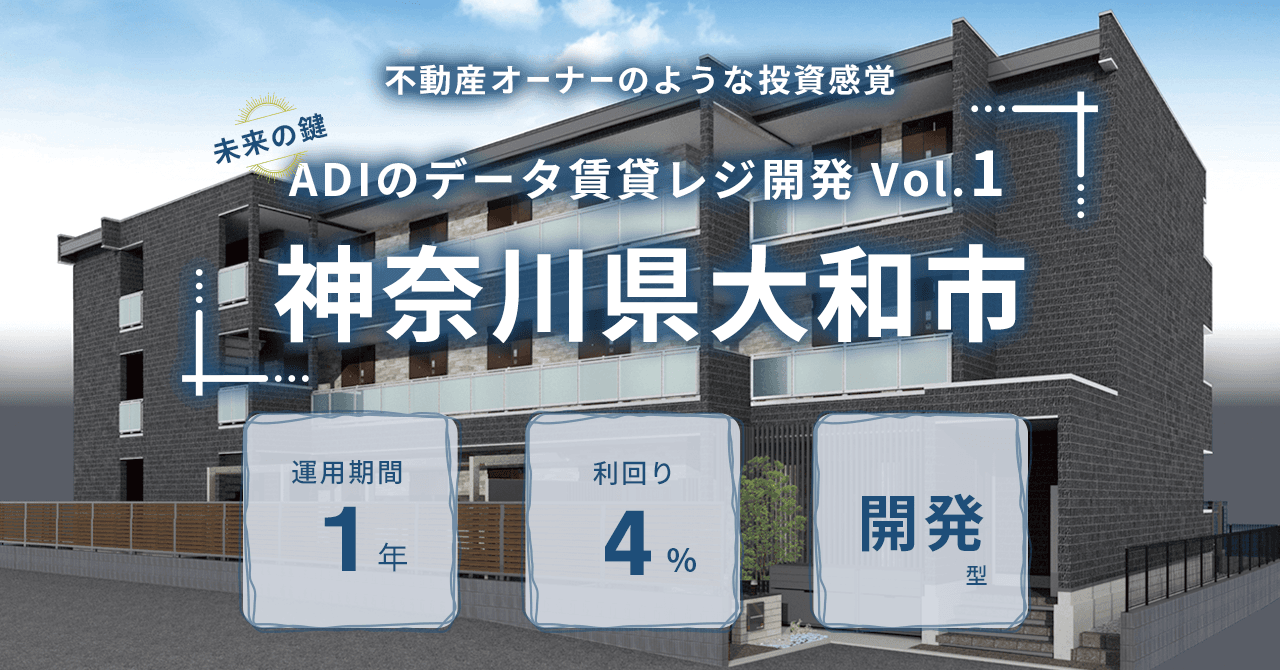 ▼ A new joint project to support the asset management of Rimawari-kun members!

As a joint project by two real estate developers featuring real estate × tech, this Rimawari-kun fund was launched to support members' asset management. SYLA and architect developer, Inc. ("ADI"), who has different real estate trade areas in the Tokyo metropolitan area, will develop new rental residences funded through Rimawari-kun.

Rimawari-kun will support ADI's efforts to provide a sustainable, balanced, and beautiful way of living and housing that have been reevaluated through COVID-19. We plan to continue to provide investors with new, trustworthy investment opportunities through ADI's data-driven approach to real estate development.


▼ Company profile of architect developer, Inc.

ADI is a real estate developer that provides one-stop service for land purchase, building design, construction, tenant recruitment, and property management mainly in Tokyo, Chiba, Kanagawa, and Saitama. Since they are engaged in tenant recruitment and property management, ADI can construct properties from the perspective of tenants. While the number of units managed has increased to approximately 44,000 to date, ADI has achieved an occupancy rate of 99% for 11 consecutive years.

ADI also provides stable rent income to owners through master lease (building bulk lease) agreements with property owners. ADI has significant track records in construction, with 3,372 buildings completed to date. Many of the residents are in their 20s and 30s who commute to Tokyo and will create the future society.


▼Data-driven rental residence development for elaborate planning

 Price assessment based on data and evidence
ADI's development of rental residences is based on analysis of a vast amount of data accumulated from their own construction experiences and various other sources to predict the price of properties when they are completed in the future and to make reasonable estimates of construction costs. Land prices in acquiring rental residences are statistically calculated based on such data without relying on intuition for land market prices.

 Development of rental properties in high-demand areas
ADI builds properties in Tokyo and other populated areas to ensure the sufficient number of potential tenants.






・Rent assessment based on data mining
ADI' unique rent assessment criteria (examples described below) are updated on a daily basis based on big data and data from 44,000 units of their own properties.

(1) Focus on 979 target stations out of a total of 1,637 stations in the Tokyo metropolitan area.
(2) Ranks of stations based on big data and ADI's own property performance data.
(3) Development of a supply plan to avoid oversupply to regional demand
(4) Meticulous rent setting in consideration with various criteria such as direction of the property, room price per unit area, floor level, and room location.


▼ Sales, management, and tenant services that leverage continued high occupancy rates

For 11 consecutive years, ADI has maintained an occupancy rate of over 99% at the end of March, typically the most competitive month in the industry.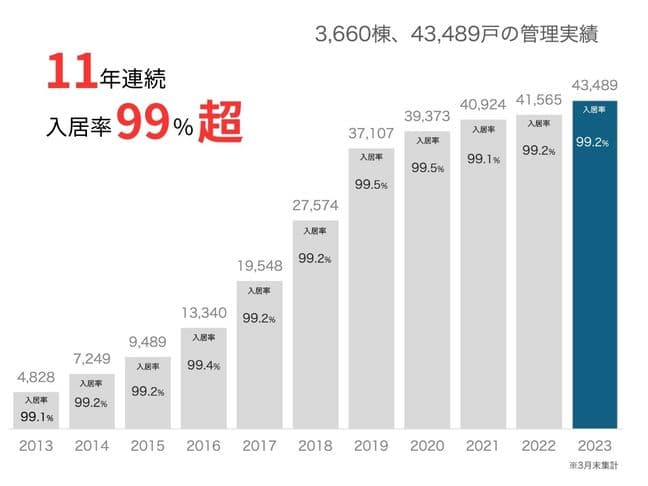 ADI has three main sales channels: (1) landowners and individual investors, (2) overseas institutional investors, and (3) inbound investors (overseas investors). In this fund, the sale price is set based on ADI's own data and evidence-based price assessment. The property will be sold within the investment period by accurately grasping purchasing demands through ADI's diverse sales channels. To realize stable rental management for property owners, ADI rents properties in bulk, and ADI acts as a lessor on behalf of the property owners, recruiting tenants and performing maintenance.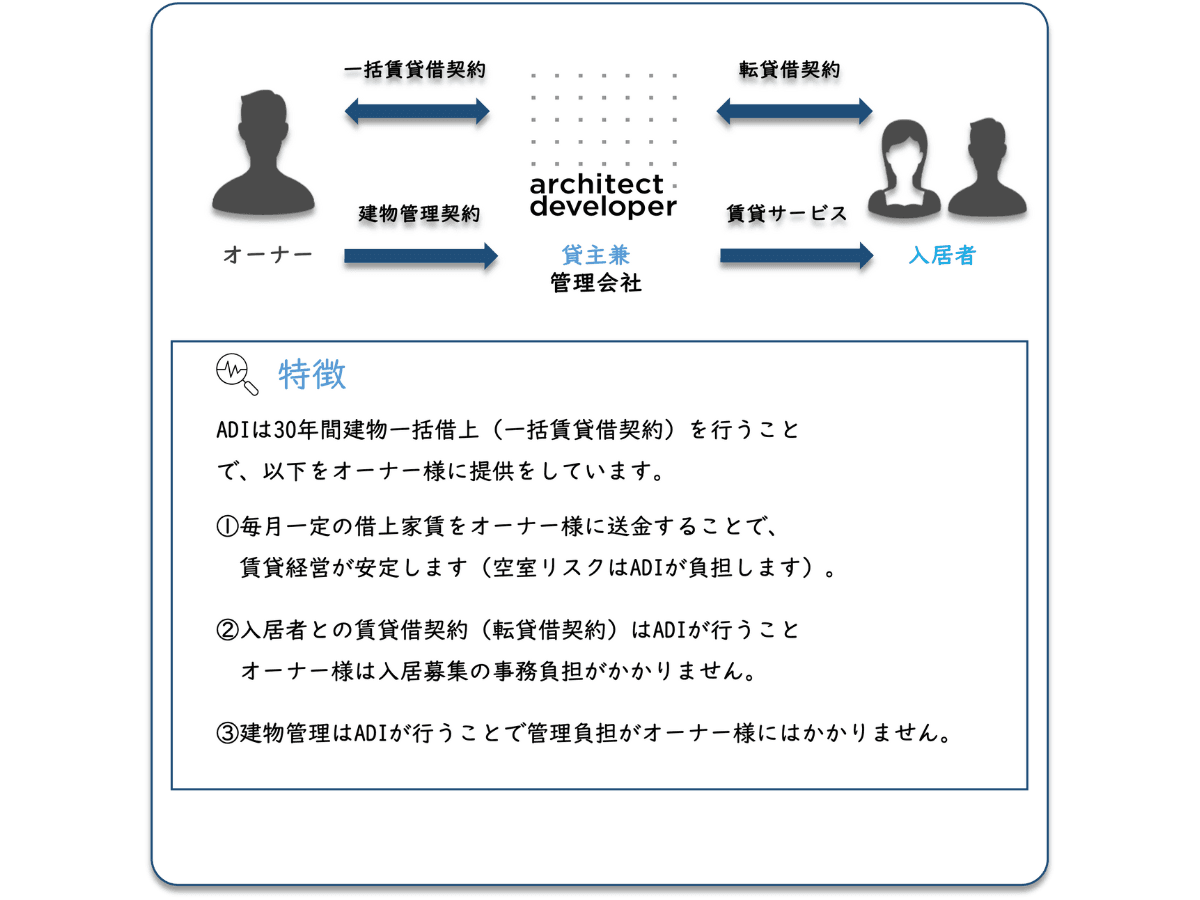 ADI also offers a service called LiVLi CLUB for residents' convenience, in which ADI provides seminars, events, preferential services, high-speed Wi-fi, etc. to over 38,800 members (as of September 2023), targeting to attract residents in their 20s and 30s who commute to central Tokyo.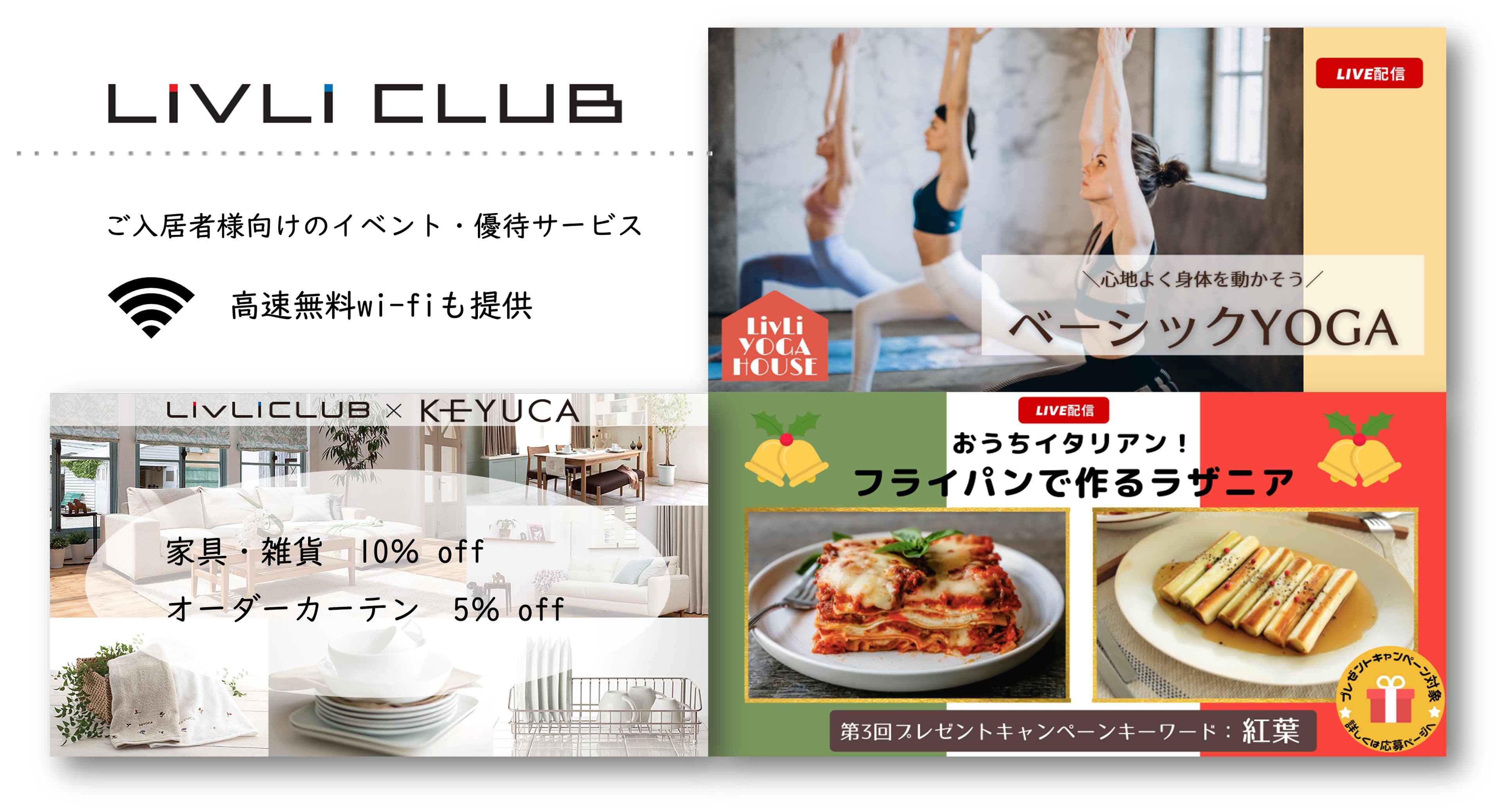 ▼ Scheme and fund information

The fund's subject property is located in Yamato City, Kanagawa, which is home to Japan's largest library "Sirius." The nearest station, Tsuruma Station, is an 8-minute walk away. Around the station, there is the Yamato City Hall, and large shopping mall such as Ito-Yokado and AEON MALL. The area is convenient for both living and transportation.



Fund name: "Key to the Future—ADI's Data Rental Residence Development Vol. 1 'Yamato City, Kanagawa'"
Offering amount: 324.02 million yen
Expected yield: 4.0%
Time for distribution: 12 months
Fund management period: 1 year
Type of application: First-come, first-served
Term of application: 12:00, Monday, October 9, 2023 –10:00, Tuesday, October 17, 2023 *
Website for application:https://rimawarikun.com/customers/products/74

*Applications may close early depending on the number of applications received.

What is "supportive" real estate crowdfunding platform "Rimawari-kun"?

With the concept of "support in a new form," Rimawari-kun is a "'supportive' real estate crowdfunding platform" that allows people to invest from 10,000 yen per unit in real estate that contributes to society, revitalization of local communities, and supports someone's dreams and challenges.
Website:https://rimawarikun.com